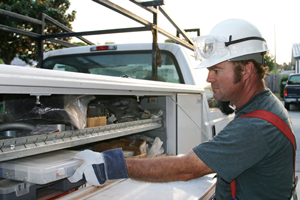 Electrical Repairs - Springdale
At Mister Sparky, we specialize in a wide variety of electrical repairs. We know Springdale area residents rarely plans or budgets for electrical repairs and that it can be stressful when you experience electrical problems. If you are experiencing electrical issues in your home or business, this could be a sign of a more serious underlying issue, so it is important to call a licensed electrician to troubleshoot your issue.

The professional electricians at Mister Sparky are trained to diagnose your electrical problems quickly and safely. We will evaluate your situation and present your options to you keeping in mind cost, and especially, the safety of your family and home.

Call 479-553-9908 to get an estimate for your Springdale area electrical repair project today!

We are ready to safely and quickly provide quality electrical repairs to Springdale area residents including:
Electrical panel repair
Flickering light repair
Overheated outlet repair
Circuit breaker repair
Electric water heater repair
Switch & outlet repair
Security system repair
Phone & data wire repair
Appliance power repair
and much more!


Contact us today at 479-553-9908 to receive an estimate for your Springdale area electrical repair project!